Stories, Topics & Links to Recent Guests:
The following is a highlight of some of the many guests, organizations and topics discussed on "Bulldog Live!"-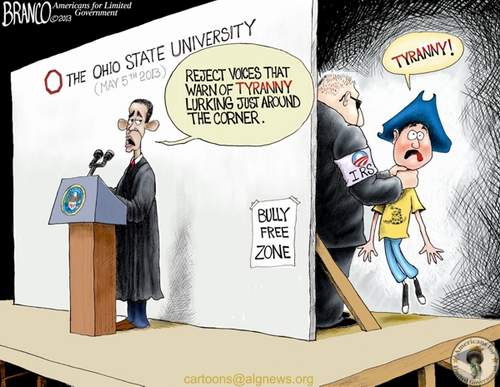 May 16, 2013
IRS sued for improperly seizing the medical records of 10 million Americans
IRS Official in Charge During Tea Party Targeting Now Runs Health Care Office
IRS Targeted James Dobson for Discrimination Because He Criticized Obama
Gohmert: Holder 'Was Not Being Truthful'; Holder: 'You Cannot Know What I Know'
Benghazi Emails Directly Contradict White House Claims
Eric Bolling: I Was Audited After Criticizing Obama
Susan Rice 'Likely' to Become National Security Advisor
CPI: Headline Negative, All Food And Energy
Obama: No need for special counsel in IRS probe
IRS workers claim "they simply did what their bosses ordered"
O'Malley signs controversial gun-control bill into law
Congressman: Justice Dept. Wiretapped the House of Representative's Cloak Room
Second appeals court invalidates Obama's NLRB recess appointments
Witness Protection Program lost two 'known or suspected terrorists'
Police Chief Asks Citizens for Ammo, Gets 1,500 Round Loan Amid Strong Response
Men who are physically strong are more likely to have right wing political views
New Hampshire committee votes to limit school birthday parties to once a month
---
May 15, 2013
.IRS inspector general's report small comfort for Tea Party groups
Holder: Searching Reporter Phone Calls Is So Routine I Can't Remember How Many Times It Has Happened
ABC News Reporter: "Strong Sense" Someone In The White House Authorized IRS Targeting
The IRS Wants to Know If You're a "Patriot"
IRS official Lerner speedily approved exemption for Obama brother's 'charity'
Political influence on network news coverage
Holder '95 to 99 Percent Certain' Deputy AG Authorized Subpoena of AP Phone Records
The IRS wants YOU — to share everything
Soros Gave $6.1 Million to Groups Linked to Pressure on IRS to Target Conservative Nonprofits
Prominent Catholic Prof. Claims IRS Audited Her After Speaking Out Against Obama and Demanded to Know Who Was Paying Her
---
May 14, 2013
I Demand Impeachment For Breakfast
The IRS Predicted Scandal: Baucus Demanded IRS Investigation Before He Condemned It
In IRS scandal, echoes of Watergate
Obama's claim he called Benghazi an 'act of terrorism'
Holder needs to explain DOJ's spying on journalists, says civil liberties groups
Levin: Republican establishment bought into "kooky Tea Party slander"
Unfairly targeting conservatives: IRS visited EAGnews site 30 times in the past 12 months
Justice Department Subpoena of AP Journalists Shows Need to Protect Calling Records
Progressive Group: IRS Gave Us Conservative Groups' Confidential Docs
IRS Won't Say If It Will Comply With Congressional Demand for All Communications and Names Involved in Discriminating Against Tea Party Groups
Cleta Mitchell to Newsmax: IRS Scandal Reaches to White House
House committee to probe Sebelius soliciting money for ObamaCare signups
Holder says AP probe handled by deputy after he recused himself
Conservatives aren't paranoid, the IRS really is out to get them
Restaurant owners blast proposal to tax employees' tips as business' income
Documentary Film Explores the Complexity of the Northern Pass Project
What's Next - a Pathway to Ownership? (The Absurdity of Amnesty)
Government Is Free To Snoop On You, But You Can't Snoop On Government
---
May 13, 2013
I am the Face of the Obama IRS Attacks
IRS Tea Party Scandal Shows Government Should Be Kept Away From Our Data
Rumsfeld: IRS also retaliates against outspoken business leaders
The IRS admits to 'targeting' conservative groups, but were they also 'leaking'?
FLASHBACK: Romney donor vilified by Obama campaign, then subjected to 2 audits
Obamacare: Taxpayers Must Report Personal Health ID Info to IRS
NSA Denies Spying on U.S. citizens
Activists call on Obama to stop deportations
Obama Justice Department secretly seizes AP phone records
Austerity Versus Growth a False Choice
After voting for ban, legislators take free tickets
Nathan Mehrens announced as new Americans for Limited Government president
AEI on Dodd-Frank and Community Banks
---
May 12, 2013
Carney: No Proof Al Qaeda Tied To Benghazi Prior To Sept. 16
IRS targeted groups that criticized the government, IG report says
Ways and Means to IRS: 'Provide All Communications Containing Words 'Tea Party,' 'Patriot,' or 'Conservative'—By Wednesday
IRS Targeted Jewish Groups Also
Plans to export US natural gas stir debate
CBS Anchor: 'We Are Getting Big Stories Wrong, Over and Over Again'
Rand Paul: The moment of responsibility for Hillary Clinton
Cecil County, Md. passes resolution opposing gun control law
New "American Crossroads" Ad Goes After Hillary Clinton's False "Video" Story on Benghazi
Homeless sue state over evictions from public land
'Honor' flag for veterans fuels debate
Boy Scout officials say NH open to change in national policy on gay members
---
May 11, 2013
State Ordering Girls Locker Rooms Open for Boys
Immigration enforcement run by La Raza, claims ICE union leader
Bankers: College debt bubble mimics housing bubble
House passes bill to prioritize US debt payments
IRS knew tea party targeted in 2011
CBS News President Brother of Obama National Security Official; Will He Oust Benghazi Reporter Sharyl Attkisson?
---
May 10, 2013
Obama Administration Allowed Radical Cleric to Curse US Navy SEAL Heroes at Funeral Services (Video & Transcript)
Why the Benghazi Hearings Are Likely to Be a Bust
Feds sound the alarm, warn plastic 3-D guns violate international arms laws
How Do You Spell "Desperation"? I.T.A.R.
IRS Admits To Targeting Conservative Groups For Audits
Benghazi: Speaker Boehner reacts to criticism of his non-actions
Obama's Full Faith and Credit Act crock
Internet Sales Tax Bill Passes Senate - Contributions from Key Stakeholders
IRS targets conservative and Tea Party organizations: Official admits
Open mike reveals N.J. senators' contempt for gun owners, confiscation goal
---
May 9, 2013
The Untold Story of Gun Confiscation After Katrina
Maryland Gov. Martin O'Shameless rides again
Senate Fails to Pass PRO Gun Carry Amendment by 4 Votes in Bipartisan Vote
Connecticut Sees Number of Background Check Requests Increase by 6,000% (not a typo, 6,000%)
Why We Should Mistrust the Government
Bike infrastructure debate officially over
Law Officers Write Congress To Warn Gang Of 8 Legislation Will Endanger Public Safety
Crane: 'No such thing as a background check on a foreign national'
Americans For Limited Government Hails Kris Kobach as a Hero
Retailers Slash Work Hours Rapidly Ahead Of ObamaCare
Rich Greens Killing Jobs for Ordinary Americans
Libya Security Lapse: The Budget for Embassy Security Is Not Responsible
NH tax collectors target tips for business taxes
Another Government Backed Automaker, With a Twist, Goes Bust
Poll: 61% of College-Age Students Want Government to Stay Out of Their Lives
"There's No Such Thing As Ethical Oil" Says Man Who Sold Television Network To Oil Barons
---
May 8, 2013
Gun crime has plunged, but Americans think it's up, says study
Pew Credits Decline In Gun Crime To Abortion
What is the GOP's Debt Ceiling Strategy?
Obama's Labor Dept Green Jobs Chief Resigns
Marine vet plans peaceful July 4 armed march into D.C.
Benghazi Bombshell - The Truth That Should have Come Out BEFORE The Election
---
May 7, 2013
Court upholds conviction for Gribble in Mont Vernon case
Bloomberg, Nov. '12: NRA Dying -- NRA, May '13: Five Million Members
'Fair': Government Taxing Businesses to Fund Competitors to Their Businesses
Feds Spend $402,721 on Underwear That Senses Cigarette Smoke
Hospitals oppose link to medical spending and economy
Stop Granting Special Privileges to the Police
The Faux Battle Over Online Sales Taxes
How Your Purchasing Power Was And Is Destroyed
Shea-Porter will seek NH carve out in Internet sales tax bill
2 investigates: Veterans fighting against foreclosure
Parental consent for treatment of STDs in NC bill
Report: Gun Homicides Down 40% Since 1993, Gun Crimes Down Nearly 70%
"A Pencil is Considered a Weapon When It's Pointed at Someone in a Threatening Way and Gunlike Noises Are Made"
---
May 6, 2013
Could immigration bill set off another backlash?
States fear losing aid for 'uninsurables'
New Heritage Study on the Cost of Amnesty
Chris Crane on the price of opposing Obama immigration policies
Obama urges students to rely on big government
Sen. Ayotte: I voted to improve background check system
Cuban bolero giant César Portillo de la Luz dies at 90
---
May 4, 2013
Gun Control Works
Suicide rates for American adults increasing, says government report
Michelle Obama: Gun violence has children fearing death every day
Obama: Americans 'Are Root Cause of Violence That's Been Happening Here in Mexico'
Remarks at the Annual Members Banquet of the National Rifle Association 1983
Kansas To Eric Holder: Perform Anatomically Impossible Act
NRA's LaPierre: 'Good Guys with Guns Stopped Terrorists with Guns'
---
May 3, 2013
NY man fighting $60k fine for selling lighters shaped like a gun
Eagle Scout Expelled Due to Forgotten Shotgun WILL Get to Graduate High School AND Gets Full Scholarship
Behind the Unemployment Headlines
Labor Force Participation: An Historical Perspective
Immigration polls slide after bombing, border enforcement concerns
The Gang of Eight Immigration Bill, Explained in One Infographic
Medicare's Pay & Chase Phenomenon
Shocker: Obamacare Costs Already Being Dumped On The States
---
May 2, 2013
NH workers, immigrants, holding Statehouse rally
Rubio admits Gang of 8 bill border security provisions are weak
SONG: Marco Rubio - The Amnesty Man Supports Legalization for Illegal Aliens .
CBS: Illegals Entering US Triple With Talk of Immigration Reform
5 Ways the Immigration Bill Is Like Obamacare
Cyprus lawmakers finally agree to steal $17.1 billion of savings deposits
[Video] POWERFUL, MUST WATCH Public Service Announcement – Why Do You Need Full Capacity Magazines?
Democrats Threaten The LA Times Over Potential Koch Brothers Sale
Holder Threatens Kansas Over New Gun Law
Who The Hell Thought This Was a Good Idea? OR School Holds Unannounced Mass Shooting Drill with Blanks
Part II: Gang of Eight Breaks its Promise Regarding English
Gang of Eight's Plan Would Give Illegal Immigrants Tax Amnesty, Too
National media exaggerate anti-Ayotte gun control protests
---
May 1, 2013
Zero Tolerance Watch: Teen Faces Felony Charges for Science Experiment
Claim: Saudi Arabia Wrote to Warn U.S. About Tamerlan Tsarnaev in 2012
N.H. workers, immigrants hold Statehouse rally
Federal judge rules criminal alien names aren't for public to know
Carney: 'Benghazi Happened a Long Time Ago'
North Dakota's Oil, Coal Counties Get Top Ratings For Air Quality
Meet new NRA president Jim Porter
---
April 30, 2013
Gun vote stirs passion at Ayotte town hall meetings
Exclusive–-Sessions: Immigration Bill Gives Amnestied Residents 'Immediate' Access to Welfare
White House to Streamline Obamacare Application
Aw, You're Just Figuring It Out Are You? (WSJ)
Arizona Gov. Brewer Refuses to Stop Using Term "Illegal Immigrant" (Video)
POWERFUL, MUST WATCH Public Service Announcement – Why Do You Need Full Capacity Magazines?
3 Myths Joe Manchin Continues to Spread About the Manchin-Toomey Bill
Senate immigration bill gives illegal aliens multiple amnesties: New study
Here's What Americans Don't Get About Cycling — And Why It's A Problem
FDA to Let 15 Year-Old Girls Buy Morning-After Pill Over the Counter
---
April 29, 2013
Will no one stand up for freedom?
Dick's Sales, Stocks Drop Following Black Gun Ban
Sex worker rights debated at UNH conference
Gun Control Advocates Revel in Obama's Economic War on Guns
Southern Poverty Law Center tied to domestic terrorism
Immigration Bill Doesn't Secure the Border
Only Government Complains About Having More Customers
Personal Income And Spend: Meh (Again)
New study confirms economy was destroyed by Democrat policies
---
April 28, 2013
Homeland Security Training Video Depicts Gun Owners As Dangerous Terrorists
Rant of the Year: Judge Jeanine's Slapdown of Jihadi Bomber Mother
Army says no to tanks, Congress insists
Americans fear government more than terror
U.S. Taxpayers Footing Bill for Chinese Car Maker in Calif.
Manchin: Gun Bill to be Reintroduced
---
April 26, 2013
The Gang of Eight Bill: Highlights and Howlers From 844 Pages
USDA/Mexico Spanish-language flyer: Get kids on food stamps without showing documents
Gang of Eight Breaks Promise on Back Taxes
[Video] 90% Support Background Checks DEBUNKED
Attorney Nappen Wins Self Defense Jury Trial -- Felony Criminal Threatening with a Handgun
Newtown Voters Reject Budget Hiring Security Guards for Schools
Solis' questionable law firm debt
Legislature Considers Bill Of Rights For Homeless
Gov. Hassan ready to OK higher speed limit
Boston Bombing Suspect's Mother Was Also in US Terrorism Database
---
April 25, 2013
Gabby Giffords, Mark Kelly Targeting Senators Who Opposed Gun Control
Lawmakers, aides may get Obamacare exemption
Obama's Justice Department torpedoes Boston bomber interrogation
Gov. Martin O'Malley talks about presidential aspirations on overseas trip
Williams-Sonoma Releases Statement Apologizing for Pulling Pressure Cookers
Top Rep For Immigration Law Enforcement Officers: Senate Immigration Bill Threatens Public Safety
---
April 24, 2013
Obama Deportation Progam Likely to Be Blocked, Judge Says
Boston Terrorist Tamerlan Tsarnaev and Family Got Welfare Benefits
The Now Free Saudi 'Person of Interest' Has 6 Saudi 'Terrorists' in Family,5 More Are in Gitmo
Tamerlan Tsarnaev got Mass. welfare benefits
WHOA!… Zubeidat Tsarnaeva Tells CNN: "I Don't Care if My Youngest Son Is Killed. I Don't Care If I Am Killed. I Will Say Allahu Akbar!"
What's Bad About a House-to-House Search?
Lawyer: LGC effort to repay taxpayers lacking in credibililty
Poll: 69% Say They Would Have Liked To Have Been Armed During Boston Manhunt
Florida Attorney General Pam Bondi demands nearly $6 billion from BP for 2010 Gulf oil disaster
US authorities interview Boston bombing suspects' parents in Russia
GE Capital Cuts Off Lending to Gun Stores Citing Sandy Hook
Student Sent Home for 'Support the Troops' Shirt... at Army Base!?
Biden: Tsarnaev brothers 'perverted, cowardly, knock-off jihadis'
---
April 23, 2013
Napolitano Admits DHS Knew of Boston Bomber's Russia Trip
Rand Paul's question still has not been answered
Illegals skate on 'public charge' rule in Gang of Eight bill
Top 5 Problems with the "Comprehensive" Immigration Bill
Immigration reform could be bonanza for Democrats
PA Resident Uses AR15 to Defend Himself and His Wife from Intruder Who May Have Been on Drugs
Stupid: Williams-Sonoma Stops Selling Pressure Cookers in Massachusetts After Boston Bombing
Teen Suspended for Wearing Gun T-Shirt Returns to School - Wearing the Same Shirt!
Obama, Holder Push to Loosen Gun Sale Restrictions—for Legal Immigrants
---
April 22, 2013
Secret Emails: Cato, Norquist, Rubio Use Boston Terror Attacks to Push Immigration Reform
Rand Paul: Stop immigration bill until we understand Boston
Immigration Policy Reform Press Conference
Boston Bombing's Brutality No Guarantee of Death Penalty
Ashcroft: Miranda Rights in Tsarnaev Case 'Irrelevant'
Boston Tried a Police State and it Failed
Graham: Misspelling helped Tsarnaev elude FBI
Pet Projects Sprinkled in Immigration Bill
Dzhokhar Tsarnaev charged with using 'weapon of mass destruction'
Before Boston, warning signs Chechen extremists were plotting beyond Russia
Dershowitz: Authorities Will "Regret" Not Reading Boston Bomber Miranda Rights
USA TODAY Poll: Public support for gun control ebbs
Governor Hassan Calls on Federal Government to Protect NH from Potentially Dangerous Tar Sands Oil Pipeline
Seniors Get Hung Up In Health Care Scams
Saudi Students in U.S. Up More Than 500% Since Sept. 11, 2001
Police arrest 2 in Canada terror plot
Senate bill jeopardizes tax-free online shopping
Legislator got free building, courtesy of taxpayers
---
April 21, 2013
'This is our f***ing city!' Red Sox hitter David Ortiz gives powerful tribute to Boston as victims and heroes are honored in team's first home game since marathon bombings
FBI hunting 12-strong terrorist "sleeper cell" linked to brothers Tamerlan and Dzhokhar Tsarnaev
Boston Bombers' Uncle Ruslan now Says Nephew Talked to him in 2009 and Mentioned the word "Jihad" – Videos
Police chief details chase, capture of bombing suspects
Russian Boston Marathon bombing suspect Dzhokhar Tsarnaev got Cambridge scholarship
Sen. Feinstein: Treating Bombing Suspect as an Enemy Combatant Would Be 'Unconstitutional'
Kerry promises $123 million to Syrian jihadists fighting Assad
TSA Chief: Chechen Women With Explosive Bras Inspired U.S. Airport Pat Downs
Police perform house-to-house raids in Watertown MA ripping innocent families from their homes
FAA furloughs kick in, but flights come in on time
Rep. Lamar Smith: Immigration Bill 'Worse Than We Thought,' Legalizes Relatives and Previously Deported
Student charged after refusing to take off NRA T-shirt
Missouri official resigns amid controversy over handling of concealed-carry permits
Americans 'snapping' by the millions
---
April 19, 2013
Not a Suicide Operation—but Suicide Ready?
Mother of Boston bombing suspects arrested last year for 'stealing $1,600 worth of clothes from Lord & Taylor'
Report: DHS Failed to Deport Boston Terrorist After 2009 Assault Conviction
---
April 18, 2013
Heh Baucus, You DOUCHE!
Reid to shelve Senate gun legislation for now
---
April 17, 2013
844 page Immigration Bill
Senate Immigration Bill Delivers Amnesty and Cheap Labor, but Not Immigration Reform
Immigration bill filed in Senate; opponents hope to use delays to kill it
No One Wants to Ban or Confiscate Guns huh? These Quotes from Anti Gun Leaders Say Otherwise
Senate Gun Control Bill Erodes Your Rights and Privacy
Kansas Governor Signs Bill Nullifying Gun Control
Sen. Cornyn Adds National Concealed Carry Amendment to Senate Gun Bill
Union That Backed Obamacare Now Wants It Repealed
Congress Quietly Repeals Their Ban On Insider Trading
---